As the weekend slides past, I sit reflecting on the state of things. We packed a lot into this weekend and the back half of last week. It always amazes me that if things were left to me, we'd miss half of them. Basically, my man is the
most adventurous
person I know. He would try anything, taste anything, go anywhere, strike up a conversation with anyone, and do pretty much anything
new
without hesitation. I, on the other hand, am completely opposite and have been known to kind of hide behind his broad back. Ha! I love that he pulls me out of my box, sometimes kicking and screaming, and makes us try new things as a family. He is the fun one, not me. Just saying.
I had the opportunity to bask in the glow of one of my sis-in-laws last week. I don't want to embarrass her but she has been completely transformed over the past year. It's a thing to behold. She began walking with Jesus and He brought her out of addiction and pain... her
joyful heart
is infectious. We sat giggling about how good Jesus has been. Talking about past things... about the life she is grabbing a hold of with two hands and I couldn't be more proud of her. I've known her since she was only eleven. Prayed for her so long. Watched her struggle with so much... and I've cheered this past year as she was baptized and began making huge changes. This little cutie is my three year old niece. She wanted more juice. Precious and heart melting.
I fell hard for the Sherwin Williams "color of the year"... Aloe. I decided to try my hand at painting laminated wood, which was all over Pinterest and making me think it
might just be possible...
Thrilled to report it actually worked out
really well.
I was wildly skeptical but it all comes down to the right primer apparently.
Always loved this cheapie computer cabinet that sits in our guest space. We bought it years ago when we began homeschooling, at a discount store since the doors hang crooked. However... It's kind of a dingy white color in real life so I proposed a paint job. Since this isn't a high traffic area, an expensive piece etc., my man agreed. It was terrific fun. I used an oil-based primer that was meant for glossy surfaces, (Multi purpose oil based primer from Sherwin Williams) and I didn't sand. Mainly because I wanted to see what would happen so I could tell you guys.
Yeah. That's why.
(And not at ALL because I'm
totally lazy,
whenever I can get away with it. Ahem.) I painted two coats of Pro-classic latex semi gloss in "Aloe" from Sherwin Williams.
I love the little refresh to it's surface and so far the paint is really sticking- it's not chipping or scraping of. You can see brush marks from the primer but I happen to like that because it makes it look older and not as "cheap." Does that make sense? Such a happy pop of green/blue in the corner. I grabbed a piece of fun fabric and covered the chair seat too. (I probably should have organized the mess you can see in the windows. But yeah... we
use this thing
as our family office and y'all know what that means.)
I also found and printed a free botanical print from
The Graphics Fairy
blog and framed it for a pop of spring time color. I am loving
green
right now. I also traded places with the table that resides here and my tiny book case for a change. Sometimes a girl needs a change. I love having my vintage camera collection (tiny though it may be) out and about. Not sure about the background pattern so I may need to change that eventually but it's nice to have a few shelves here. Plus our favorite card games are kept in that old blue radio parts box and it's great having it in the living room again.
I would just like to say... my giant plant in the bucket is
still alive.
I am in shock. I can't remember when I watered it last though so hang on while I run and do that..... ..... ..... (The tiny plant on the counter top is FAKE. So at least I know
it
will live.)
Another one bites the dust. We can't get healthy long-term around here. Can. Not. Ava's got the head/chest cold now. I am
not getting sick
again either. Mind over matter. Ha!
I would love to welcome a new LMM blog sponsor! Sarah from
The Rustic Ribbon
has joined us and here are just a sampling of the sweetness this girl sews. I will tell you her items are
fantastic quality
and I love these fabric choices. She makes all kinds of sweetness such as clutches, notebooks, journals and crayon rolls. This clutch she sent me is padded. And lined with polka-dotty fabric and has little pockets!
I just love it!!
And just because she's new around here, she is offering all of you LMM readers a sweet discount on your orders from
her brand new little shop!!
Use
"lemonade15"
when you check out to get 15% off your orders!
My shop
.
Yeah, it's neglected. I know a bunch of you have been asking about some of the items I used to carry regularly such as chalkboards and chicken wire frames, etc... honestly I have had
so many intentions
of stocking back up but I've been so busy whipping out custom order after custom order (wonderful "problem" to have) and simply haven't had the time for all the things I want to make. So
my shop
is kind of bare bones.
For now.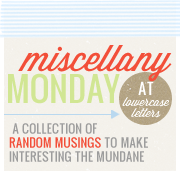 And that's pretty much the state of things right his minute.
Always random.
I think those are the only posts I am capable of writing any more and I'm linking up to Lower Case Letters blog.
How was
your
weekend??